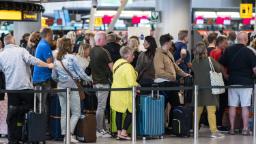 (CNN) — In the latest moves aimed at preventing travel chaos, Amsterdam's Schiphol airport has extended its summer traffic cap and British Airways has stopped selling short-haul tickets from London's Heathrow. Airport.
Schiphol Airport announced on Tuesday that it will continue its traffic cap until September and October.
The maximum number of passengers departing in September will be limited to 67,500, the airport said in a statement. That number will increase to 69,500 per day in October.
Schiphol noted that it now has two weeks of public holidays and "therefore expects to have an average of 3,500 passengers departing."
"Due to the capacity available at Schiphol, the independent airport operator (ACNL) will consult with all airlines to ensure that the maximum number of passengers is based on safety capacity," the airline said.
The train cap was first introduced at the airport in June, with Schiphol citing higher-than-expected demand for travel and a tight labor market that is leaving fewer workers to deal with it.
Train tickets are also played at London's Heathrow Airport.
British Airways announced on Tuesday that it was suspending ticket sales on short-haul flights from Heathrow in response to the airline's capacity cap.
In a statement BA said it would take "reasonable action and limit the costs incurred on some Heathrow services to help increase rebooking options for existing customers, given the restrictions placed on us and the challenges facing the entire airline industry."
The affected flights are short-lived and are expected to go on sale on August 8.
The passenger cap introduced at Heathrow last month meant that at 4,000 seats per day the service would fall "to an unacceptable level", it said. CEO John Holland-Kaye announced the move.
Heathrow Airport has recently seen delays in around 40% of its flights, according to data from airport management website FlightAware. Amsterdam's Schiphol Airport experienced a similar level of delays this summer.
Top photo: Passengers line up at the departure hall of Amsterdam Schiphol Airport on May 26, 2022. (Jeroen Jumelet/ANP/AFP/Getty Images)