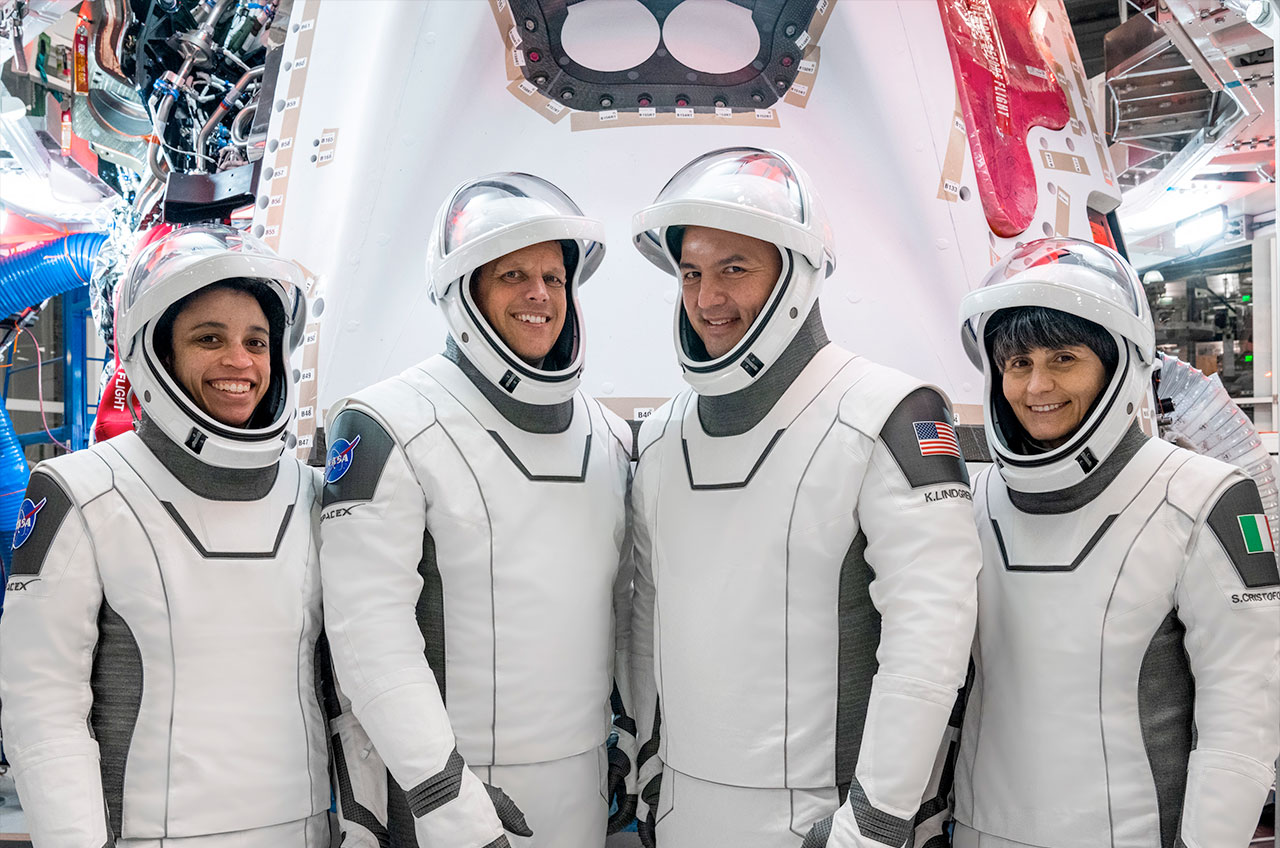 SpaceX's Crew-4 astronaut mission to the International Space Station is 'going' to begin next weekend.
NASA and me SpaceX The teams conducted a seven-hour flight readiness test for Crew-4 today (April 15) at the Kennedy Space Center (KSC) in Florida. They don't see any major problems or worries, so Crew-4 continues on its way to launch on a SpaceX Falcon 9 spacecraft from KSC's Pad 39A at 5:26 am EDT (0926 GTM) at April 23.
"Right now, everything is fine, and we have a straight path ahead of that time starting April 23," said Jared Metter, director of aviation confidence at SpaceX, during the the phone with the announcers this evening.
Select: SpaceX's Crew-4 Dragon capsule is available: Freedom
The flight test was "very clean," NASA spacecraft director Kathy Lueders said in a phone call today. The teams saw some minor issues that needed to be resolved within 24 to 36 hours, he added.
For example, NASA and SpaceX have always wanted to complete some work on the hot screen of Crew-4's Dragon capsule "Freedom," a new vehicle that has never flown before, said Steve Stich, director of the Commercial Crew Program.
The companies also want to ensure that there is redundancy in the system to supply gaseous nitrogen to start vehicles at KSC, Stich added. That desire was forgiven by the knowledge of NASA's Artemis 1 team, available another problem with gas management from a retailer during the hard -hitting mission "wet clothes training" at KSC's Pad 39B earlier this month.
Crew-4 will send NASA astronauts Kjell Lindgren, Robert Hines and Jessica Watkins and Samantha Cristoforetti of the European Space Agency to the International Space Station for a long stay.
The mission will begin at a very tight time for human flight. As mentioned above, NASA is leading the Artemisa 1 wet cloth cleaning – a practice of rigorous processes prior to release, including rock dressing – at KSC.
The blue dress didn't go quite as planned; the Artemis 1 group made three attempts to raise the basic level of missionary size. Funeral system rocket but need to call on them all to solve technical problems. NASA is weighing in on its next steps with the Artemis 1 blue flag, which could start again next week.
SpaceX has released privacy Ax-1 missionary at the airport on April 8th. The four Ax-1s are scheduled to leave orbiting space on April 19 and fly down to Earth a day later. And SpaceX's Crew-3 mission, which has been on the field since November come back home soon.
NASA and SpaceX have not scheduled a Crew-3 power splashdown day, but they are anticipating the end of April.
"We're going to do the specific landing day that's waiting, you know, a good start and then a good time to land," Joel Montalbano, director of NASA's ISS program, said in a call. Today.
"But we are planning five days between the two missionaries," he added.
Mike Wall is the author of "Outsidewould be"(Grand Central Publishing, 2018; edited by Karl Tate), a book about exploring alien life. Follow him on Twitter @michaeldwall. Follow us on Twitter @Spacedotcom or at Facebook.