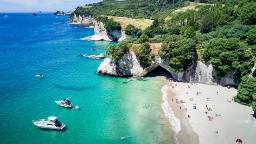 New Zealand Prime Minister Jacinda Ardern said on Wednesday, May 11, the country would reopen its borders from 11:59 pm on July 31, with cruise ships also welcomed by the local port in the same day.
The opening of the July border two months ahead of the previous government period would make it easier for foreigners to apply for visas to come to New Zealand.
Ardern said in a speech at a Business NZ luncheon in Auckland that opening borders would help alleviate skill gaps, open up tourism and put immigration arrangements in a safe environment.
"We're building on our commitment to secure New Zealand's future," Ardern said.
Images of New Zealand via Adobe Stock