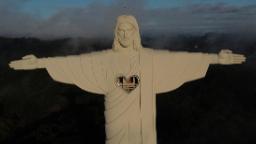 (CNN) – The city of Encantado in Brazil has a tall statue of Jesus Christ that competes with the height of Rio de Janeiro's famous "Christ the Protector" statue.
Made of steel and steel, the statue is 43 meters (141 feet) high, 4.9 meters higher than the Rio building, according to the Friends of Christ Association (AACristo), the local organization that responsible for constructing the image.
The house was designed by architect Genésio Gomes Moura and his son Markus Moura. It is set to be the third tallest statue of Jesus in the world, behind a 249-foot monument currently under construction in Mexico and a 172-foot statue in Poland.
Brazil is building one of the world's tallest monuments in Encantado, Rio Grande do Sul, standing 43 meters (140 feet) high.
In a statement on the official website of Cristo Protetor de Encantado, AACristo said the film was finished by the end of April, but a museum is still under construction around it and will not be finished until the beginning of 2023.
An elevator is being installed in the picture, according to Brazilian media. When finished, the elevator will take visitors on a tour to the heights of the heart of Christ, rewarding them with amazing hill views.
"It's a glass window from where people can take pictures and photograph the valley," project manager Artur Lopes de Souza explained on the AACristo website.
The cost is estimated at about $ 353,000 in total. AAACristo is asking for scholarships to complete the project.
Now, visitors can walk and admire the statue rising nearby – visits are allowed on Saturdays and Sundays, according to the Cristo Protetor de Encantado website.
The new film hopes to boost tourism in the city of Encantado and surrounding areas, which are close to Brazil's borders with Uruguay and Argentina.
The statue of Christ the Savior has been viewed in the city of Rio de Janeiro for nearly 90 years and is one of Brazil's most popular tourist attractions.
Top photo: a drone photo of the new film in Encantado, Brazil, taken on April 29, 2022 with a drone. Photo by REUTERS / Diego Vara